BESTEL ONLINE
FILMPJES
Your playout software
BESTEL ONLINE
FILMPJES
⇨ Mixxx
BESTEL ONLINE
FILMPJES
⇨ mAirlist
BESTEL ONLINE
FILMPJES
⇨ Proppfrexx
BESTEL ONLINE
FILMPJES
⇨ VirtualDJ (pro versie)
BESTEL ONLINE
FILMPJES
⇨ RadioDJ Version 1
BESTEL ONLINE
FILMPJES
⇨ RadioDJ Version 2
Professional radio stations
doing it for years.
Now you can too!
Connect your mixing console with your playback software and work like a pro.
Fader open and the music starts. Or use the start button. It is no longer priceless, from now on you can do it too.
Of course our mixing console must support button or fader start and your playback software need to support MIDI!
Expensive?
No way
You can make your dream reality for only € 125.
But more is possible!
Thanks to our software …..

you can do even more with your midi device.
The software communicates with the box, this allowing you to set delays per port. This delay is useful if you are using fader start.
A completely new feature is to start music in your browser (eg Youtube) but also Spotify, VLC player, Windows media player and winamp can be started. We do not need to explain that the possibilities are endless
This extra functionality requires a license for a small amount per year. This allows us to continue to develop. A test license of 2 months is included free of charge.
You decide!?
Delay adjustable
There is a big difference whether you work with button or fader start. With button start you open the fader before you give a start command. With fader start you give a start command when you open the fader.
The music in the computer is usually automatically start direct without delay, you slide the music in with fader start. For this it is useful if you can set a delay.
Depending on how fast you open the slider, it can be set from 0 to 250ms per port. Port one can therefore have a different delay than port two.
No license required.
PLUG & PLAY
No drivers required*, works under Windows & Mac by USB.
* Windows 8 and higher, for Windows 7 there is a driver available.
TESTED WITH:
mAirlist, Mixxx, Proppfrexx, VirtualDJ 2021 (only pro version), RadioDJ V1 & V2.
NO DELAY
All inputs work very fast without delay. With the Windows software you can specify a delay from 0 to 250ms (fader start).
ALL MIXING CONSOLES
Works with any mixing console that has a fader start and / or button connection (GPO / Remote).
SIMULTANEOUSLY
Inputs work independently of each other, so they can also be started simultaneously!
100% INTEGRATED
No keyboard or mouse click emulation. 100% integrated into the play-out software via MIDI.
NO POWER SUPPLY
No external power required, powered from the USB connection.
EELA, D&R, DATEQ, BEHRINGER, DHD etc.
Suitable for almost all mixing consoles
Does your mixing console have a fader start or button start? Iin 99% it will generate a pulse or continuous make contact (via an internal relay or optocoupler).
This 6-port miracle box can process both, pulse and continuous signal. Converts this to a MIDI command and passes it on to your play-out software via the USB cable.
Not only a start command, there is also a stop command which can be useful if you work with fader start.
Do you have a Behringer DX2000USB then you need a 4 port version.
BEHRINGER DX2000USB
Special version for the DX2000USB
The Behringer DX2000USB handles a differently start command that is used for the five button start buttons.
Especially for this mixing console this version has been developed. Special hardware & software are processes the signals without any problems.
There are four ports in total that convert the start signal to a MIDI command and pass it on to your play-out software via the USB cable.
Note: a DX2000 has no fader start, only button start!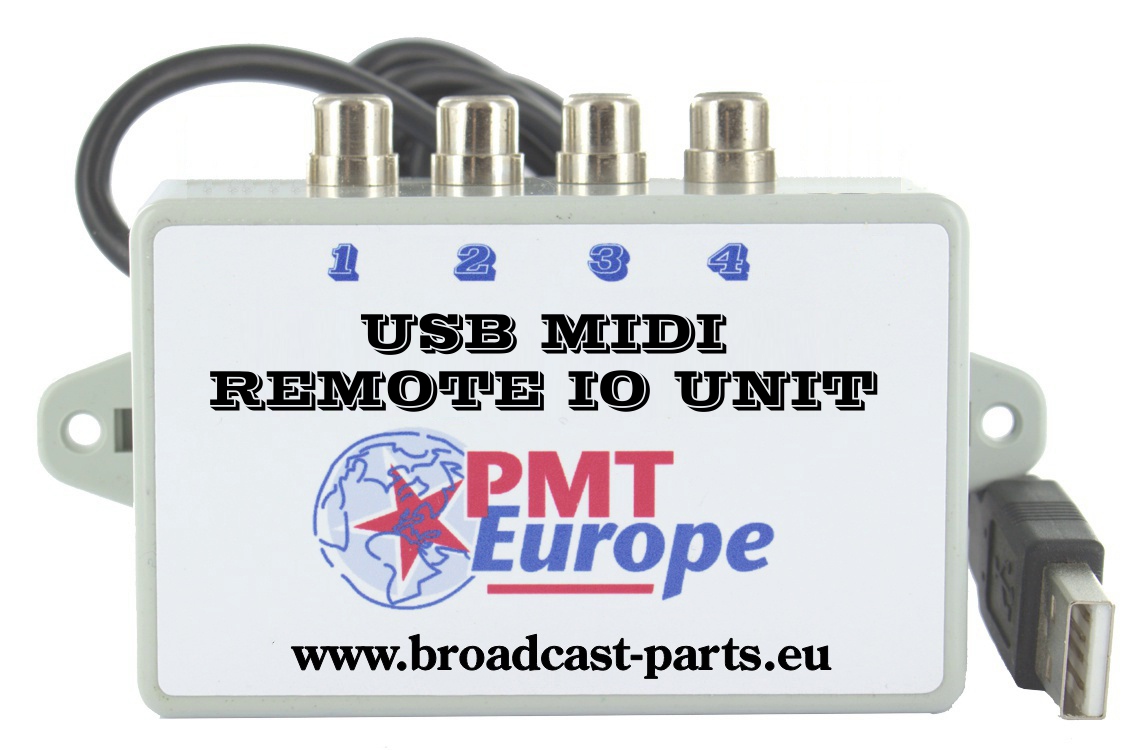 Optional license
Everything can be used by without a license except to start music in: Google Chrome, Firefox, Edge, Spotify, VLC player, WIndows media player or winamp. This requires a license, the longer you take, the lower the costs per month.
Specifications
4 or 6 RCA/cinch inputs (female)
MAC or Windows 7 and above
105 * 59.5 * 35mm (L*W*H)
Robust ABS housing
2 suspension/mounting ears
80cm USB-A cable
Which connection
Each mixing console has its own connection, often a jack plug is used (6.3mm).

EELA
SBM-80: Cable set 1
SBM-90: D-sub 25 (customization)
SRM-70: RCA male
S120: Cable set 1
S340: D-sub 25 (customization)
S440: D-sub 25 (customization)
D&R
Airlite: Cable set 2
Airmate-USB: Cable set 2
Airence-USB: Cable set 2
OVERIG
Dateq BCS 50: Cable set 1
JBL classic 9: Cable set 1
 Cable set 1 is a stereo jack 6.3mm connected via Tip /Sleeve.
 Cable set 2 is a stereo jack 6.3mm connected via Tip/Ring.
Great midi control for various programs.
A relief such a box, a push of a button and go with that jingle (or whatever you want)
Works perfectly with the LKMR software that is still under development (lekker klooien met radio)
Works perfectly I really like it
Basis installatie / Drivers
Play-out software integratie handleiding